Awesome weather in an awesome seaside village, in Nova Scotia!  We added a day here from last year's itinerary – and we made it a truely festive visit.  It is July 1 – Canada Day – much the same as July 4th, in the US.  We wrapped up our time here last nite with a 60 minute fireworks display in the beautiful bay-side village of Rockport.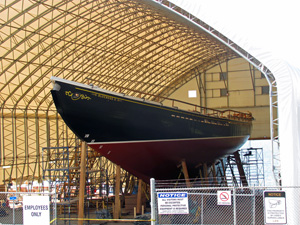 After getting settled in our campsites at the Bureau of Trade Campground (Lunenburg's Chamber of Commerce) we took our group to the Fisheries Museum.  Our docents were excellent; we learned of the historic cod-fisheries, the lobster industry – and the sail-boat industry in this beautiful community. The Museum also has an "award-winning" ice-cream shoppe and seafood restaurant – so certified by our Fantasy gang! We also got to visit "Bluenose ll – the pride of all of Canada in the sail-racing history. Bluenose ll is under construction and will be commissioned in the next year. The original Bluenose was undefeated in her entire career.
Many of us spent our extra day exploring the beautiful village of Mahone.  Here too, the festivities were in full swing. The flea market was fun – the craft and artist shops along Main street were exquisite – pottery, pewter and yarn and quilting shops abound.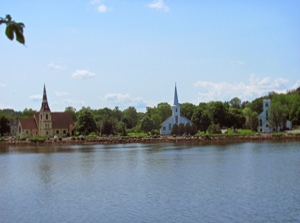 Lunch for many of us at the PUB – sitting on the out-back balcony, overlooking the bay.  It doesn't get much better than this!  Mahone is one of the true new-finds we have on this trip.  The famed "3-churches" overlooking the bay are a real bonus for the photo-bugs in the group.  A grand time here in Lunenburg – -now we head to Peggy's Cove – stay tuned!!