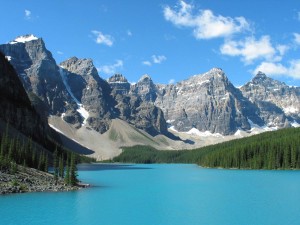 Go ahead. Indulge yourself! …In some of the world's most majestic and breathtaking scenery on Fantasy's Canadian Rockies RV Caravan!
What can you expect? It's hard to find words that accurately describe everything you'll see on the Canadian Rockies RV Caravan. You'll see layers upon layers of jagged mountain peaks towering high above the valleys, lakes, rivers, and quaint alpine towns. …And, if you've seen pictures of lakes in this region, you probably thought they'd been edited. …But, most likely, they weren't. It's hard to take bad pictures of lakes in the Canadian Rockies because they're filled with exquisite, crystal-clear, turquoise water!
Where do you begin? The remarkable Canadian Rockies RV Caravan begins in the Bow River Valley at Canmore, Alberta. You'll begin with three fabulous days of exploring and experiencing the grandeur of Banff and Yoho National Parks, including the magnificent Takakkaw Falls! You'll see two of Canada's historic, world-class hotels: the Banff Springs Hotel and the palatial Chateau Lake Louise–where you'll savor the food AND the views!
There's more? Oh, yes! You've only just begun! Imagine seeing a herd of big horn sheep or elk crossing the highway as you travel north on scenic highway 93 to Jasper. …And you'll experience what many consider to be the most unusual and unique attraction in the Canadian Rockies–the Columbia Ice Fields where you can stand on the Athabasca Glacier!
Ever been river rafting? The halfway mark of the Canadian Rockies RV Caravan lands you in the small village of Valemount, BC and that's where you'll raft down the mighty Fraser River! If you've never river rafted, most likely, this will be your first of many!
The Grand Finale! Your Canadian Rockies RV Caravan journey ends at the modern, multi-cultural city of Vancouver–home of the 2010 Winter Olympics! You'll have three days to tour the museums, historic sites, and the area's lush, manicured gardens. Finally, when you ferry over to Victoria, partake in the grand tradition of afternoon tea at Canada's landmark Empress Hotel.