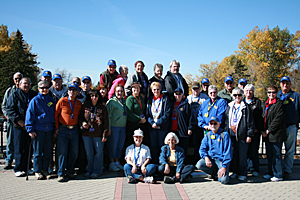 Our tour of this magnificent place didn't begin until 12:30 so we had time to explore some of the remote trails this morning. As we walked through the golden tunnels of trees and across berms separating sloughs and lakes we spotted an industrious beaver repairing his lodge. Then the 5 of us took another trail that began on the 49th parallel; the border that separates the USA from Canada.  Naturally, that was a photo opportunity that we just had to take advantage of.
At 12:30 the entire group met Cathy our very dynamic tour guide and for the next 2 ½ hours we were treated to a walk of discovery that included some secluded spots that we never would have found on our own.  Everyone was visibly moved at the tribute to the 9/11 disaster where we all somberly viewed the steel beams arranged as they fell on that tragic day. It was the Canadians who arranged, paid for and transported those beams from New York City to their destination here in this tranquil garden dedicated to peace.  Another peaceful and moving site was the chapel that was constructed so that it perfectly straddles the border. Statements from various philosophers and statesmen about character and peace are carved into the walls in the chapel's interior.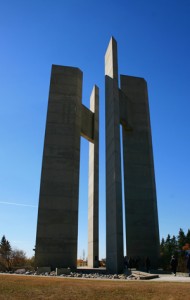 The four massive pillars that are visible from every corner of the Peace Garden symbolized all of the folks who flocked to both countries from the 4 corners of the world. The immense size of them is a tribute to their efforts to move themselves upward and make a better life for themselves and their families.