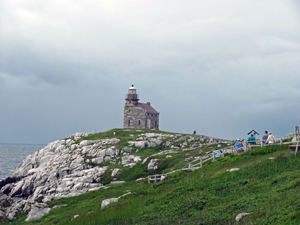 We moved our group into position – to board the ferry to Newfoundland on Day 20 of our 48 Day Maritimes adventure.  From our great campground in Arm of Gold, we gathered the group and made the 3 mile run to board the ferry late in the morning. (we will return to this park here in North Sydney, on the way homeward, for several days of great touring in this beautiful region of Cape Breton, NS.)
Our ferry trip of 5 hours was a great "respite" – snacks, naps, visiting in the lounges, venturing outside on the decks to see the big waters go by, and a movie, "Secretariat" for some of us: we need to be rested for our arrival and the "welcome process" to Newfoundland!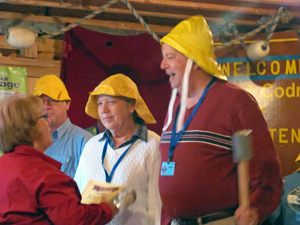 We arrived at Alice and Dennis's Grand Codroy RV Park late afternoon and settled in to begin our 2+ week adventure here in Newfoundland.  The next morning Alice served as our guide, on a grand motor-coach tour of the beautiful and fertile Grand Codroy Valley.  This region is unique in this province – it has "great dirt" – and the crops are abundant and superb – quite a contrast to most of this province, known by many as "the ROCK".  Alice took us "all over" – a delightful stop included the Rose Blanche Lighthouse – my absolute favorite in all of the Maritimes.  It has been beautifully restored and is an amazing restoration of an all-rock lighthouse, perched out on "the neck" of an amazing area of giant white rocks – – -everywhere. This one is not only the lighthouse – -but the complete residence of the light-keepers family – an amazing visit for this day. I would LOVE to get a great fire going in the woodstove here – and "ride-out" a great howling winter gale in this spot!
On our way back to the campground – Alice took us by the "fish factory" – the "down-on-the-water processing plant – where many of us purchased fresh cod, scallops and "shelled lobster" – a 2-lb bag of nothing but the "good stuff" – what a way to conclude our tour!?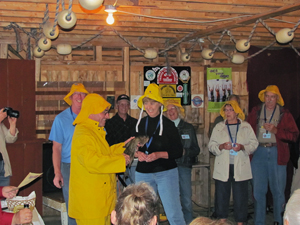 After dinner – we all adjourned to the "music and Family Hall – where Alice and Dennis took us thru our initiation – the world famous "Screech-in" – to make us all happy and honorary Newfies".  Take a look at our party-pictures!  After two wonderful and full days here, we were properly prepared to venture northward – to the next exciting days of our Newfoundland adventure.  Day 22 brings us for a one-nite stop in Portland Creek and a great dinner of Moose Stew at Mountain Waters Resort. Next up will be our "overniter" to Labrador.  Stay tuned !