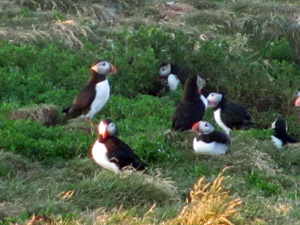 The little coastal village of Bonavista is another "new-add" for 2012 – and not to be missed in the future.  The unique architecture in this little hamlet is just extraordinary.  Bonavista is known as the "puffin capital" of the Maritimes – and it has certainly convinced us of this designation.  We took a late-evening hike out to "puffin-point" – and there they were – by the thousands!  We just sat and watched their antics as they were getting settled in for the nite – and tending to their nests, along the sides and atop the beautiful rock ledges. These wonderful little creatures are designed for flying and diving (sometimes going 200′ under the surf, to bring back their dinner for the family).  They are NOT all that adept at walking – - looking much like little  penguins, while making their way about their duties. Visiting these adorable little creatures was a real highlight for our time in Bonavista. We also made a stop at the "dungeons" – a great "blow-hole"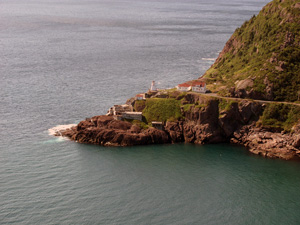 along the surf, just down the road from the unique lighthouse just outside town. Again, the crashing surf, overlapping in the great crevices below the hilltop, are just amazingly beautiful.  I could sit, mesmerized, for hours, just watching this phenomena of the sea crashing and foaming on rocks below.
Next, it was time to leave the countryside and make our way into St John's, the largest city in Newfoundland, the capitol of this special Province.  While camped at Pippy Park, we had 2 days of touring, visiting Cape Spear, Signal Hill and many beautiful spots all around the city.  Many of us spent at least one evening doing the "pub-crawl" along George Street.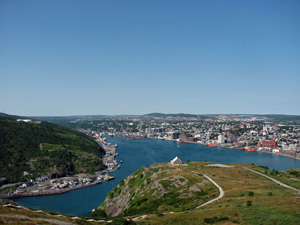 This section of town is known as the greatest density of pubs per block than anywhere else in North America. We did our best to ascertain and affirm this notoriety - and to assure its existence for another year! Our time in St John's is bitter-sweet – for it marks the end of our time here in Newfoundland. Our time on "the Rock" is concluding and we are heading to the ferry at Argentia, to take the overnite back to Nova Scotia. We have much to do yet on this journey – but the end is in site. We're focused on the fun yet to come rather than the conclusion of this wonderful trek in the Maritimes for the summer of 2012.