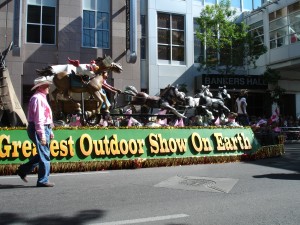 There's just no "ifs, ands or buts about it", you must have front row seats at the phenomenal Calgary Stampede Parade!
The weather is spectacular in Canada at this time of the year and everywhere you look, the sidewalks are packed with people who have come out to be a part of the kick-off event for  the Calgary Stampede, "The Greatest Outdoor Show on Earth".
How many people turn out for this parade?  Somewhere between 300,000-400,000 people.  That's just one of the reasons you want those coveted, front row seats.
Another reason is that, undoubtedly, this is one of the most spectacular parades around.
What's so spectacular?
The distinguished Royal Canadian Mounted Policed decked out in their red serges

Dozens of fabulous marching bands

Scores of magnificent floats

A multitude of horses ridden by rodeo entrants from around the entire world

Clowns

Cowboys, and

First Nation dancers in their regal attire
The parade is a perfect blend of the old mixed with the new; western mixed with modern.  From beginning to end, it lasts about two hours, and with a front row seat, you are guaranteed not to miss one fabulous moment!